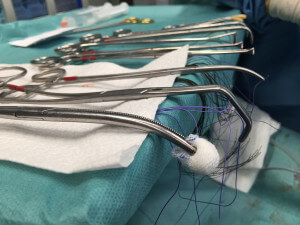 The family of a child left injured after a surgery has agreed to a $30 million settlement from the doctor and the hospital.
The lawsuit, filed in Cook County Court, detailed that the six-year-old boy suffered from brain damage and cerebral palsy due to a surgery at Chicago's Rush University Medical Center in 2011. This settlement is one of the largest for a child in the state of Illinois.
Born with an esophageal issue that was explained as correctable, the boy's first surgery was performed the day after his birth. Multiple surgeries followed, and the child was eventually transferred to a different hospital (Rush University Medical Center). According to his mother's attorneys, on what was the twenty-fourth surgery, the doctor severed an artery by improperly using a needle. The experimental operations were described as risky and novel and exhibited a lack of oversight from the hospital. The implication was that both the doctor and the hospital were responsible.
The hospital went on to say that the child had a complicated medical history which was made further problematic by being treated at another hospital. After a number of treatments, this one treatment did not go as planned. Overall the hospital stands by their level of care and is saddened by what happened in this situation. The monetary settlement will be used for long-term care, to treat the child for a lifetime.
If you feel you have been the victim of negligence or medical malpractice, the experienced attorneys at Mitchell S. Sexner & Associates LLC will be able to help you. We have handled many injuries that have been the result of complicated and sometimes experimental surgeries.
Yet regardless of whether a doctor is performing a highly sensitive and complicated surgery or whether he is performing a simple outpatient procedure, there is always the potential for medical malpractice to occur. That is where we come in. Contact Mitchell S. Sexner & Associates LLC at (312) 644-0444 for a free case analysis.
Source: http://chicago.suntimes.com/news/30-million-settlement-in-malpractice-case-against-surgeon-rush/