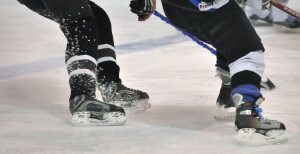 In an unfortunate accident at the Sears Centre Arena in Hoffman Estates, a 20 year junior hockey player suffered an injury that left him paralyzed. According to onlookers, the young man stumbled and then hit the boards while playing in the last game of the season for the Chicago Cougars. After he fell, he was unable to move either his legs or his arms.
According to the news conference held by doctors in Park Ridge, they stated that they are hopeful that after experimental treatments and surgery performed at Advocate Lutheran General Hospital, a recovery may be possible. The doctors indicated that they had initially thought he had severed his spinal cord, but upon closer examination they determined that the cord was actually severely pinched instead. They performed surgery to both the back and the front of his neck, straightened his spine, and gave him an infusion of adult stem cells to help his spinal column to recover. They indicated that although it was too early for a clear prognosis, they remained hopeful and said that he would need to take it day to day.
Although the hockey player did have insurance, an injury like this could easily costs millions of dollars for proper treatment, surgery, and therapy. To help defray these costs, a website to raise medical expense money was set up at gofundme.com/mattolson-3.
If you or a family member has been injured in an accident and suffered a spinal cord injury or traumatic brain damage, Mitchell S. Sexner & Associates LLC can help. Contact one of our affiliated attorneys 24 hours a day at (312) 644-0444 for free information with no obligation.
Source: http://www.chicagotribune.com/suburbs/park-ridge/news/ct-chicago-hockey-player-paralyzed-met-20160308-story