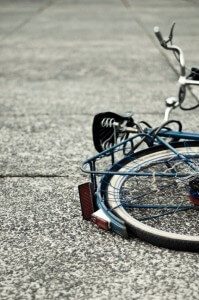 A Chicago woman initially reported dead following a collision with a pickup truck is actually resting in stable condition. As initially reported by CBS 2, the bicycle accident happened near the six-way intersection of Lincoln Ave., Fullerton Parkway, and Halstead St. in Lincoln Park.
The 38 year-old bicyclist was entering the intersection when a Ford F-650 turned right into her path. The victim was knocked to the ground. She was transported to the hospital with injuries to her head, back, and left side.
Investigators from the Major Accident Investigation Unit determined that the woman was in the truck driver's blind spot when he made the right onto Halsted.
The truck driver was issued a citation at the time of the accident. Authorities initially reported the victim died. However, by the following afternoon they retracted the statement and reported she was in stable condition. In either case, she suffered a serious injury due to the truck driver's actions.
Cyclists living in Chicago know that there is always the potential for danger while out on your bike. Chicago is a bike friendly city, but accidents can and will happen. If you've been injured in a bicycle crash, contact the Chicago bike accident attorneys at Mitchell S. Sexner & Associates LLC for a consultation.
Initial consultations are always 100% free. We'll review the facts of your case and explain all your legal options, at no charge. We handle personal injury cases on a contingency fee basis, which means you pay no legal fees unless we win your case, either by verdict or settlement.
You can reach us at (312) 644-0444.
Source: http://chicago.cbslocal.com/2015/10/22/bicyclist-38-killed-in-collision-with-truck-in-lincoln-park/