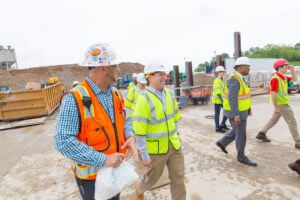 If you have been injured on the job or are ill because of something at your workplace, then you should absolutely file for Illinois Workers' Compensation. It is illegal for your employer to harass, discharge, refuse to rehire, or discriminate in any way against you simply because you exercise your right to Workers' Compensation. In fact, you only have a limited amount of time to notify your employer about an injury or illness and to file for compensation, so you should file your claim immediately.
In Illinois, Workers' Compensation is a form of insurance that is required of just about every business in the state. If you have been injured at work in or around Chicago and you file for compensation, you are not attempting to take money away from your employer. Your employer does not generally pay anything to you – instead your claim is filed with the insurance company that provides coverage for your employer, and they pay your claim. For this reason, employers have no reason to harass you or threaten to fire you for filing for Workers' Compensation.
If for some reason you are met with hostility after an injury, and are threatened with termination, or discharged from your job, then you should contact an experienced Chicago workplace injury attorney right away. Any time your rights are violated, you should find an attorney to represent and protect you, and being fired for filing for Workers' Compensation is no exception. Not only do you need to be protected, but such a retaliatory discharge is grounds for you to bring a civil suit against your previous employer. While Workers' Compensation does not take any money out of their pocket, a lawsuit certainly can if you are retaliated against.
One important thing to note, however, is that filing a Workers' Compensation claim does not in any way protect you from being discharged for otherwise legitimate reasons. For example, if you are continuously late for work and ultimately discharged for that reason, then you most likely will not be able to successfully file a suit against your previous employer for retaliation. Depending on your injuries, you might not be able to continue performing your previous duties, but your employer should find a place for you within the business that is appropriate for your qualifications. Failure to do so may be a form of discrimination.
Filing for Workers' Compensation after a workplace injury is your right. If you are being harassed by your employer or threatened with termination after filing, then call Mitchell S. Sexner & Associates LLC today at (800) 996-4824. We can discuss your case, review your options, and help you determine the best course of action.