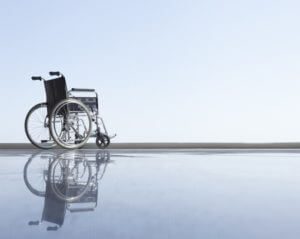 In an odd twist of events, a software designer who was injured at a hospital has settled his medical malpractice case for $20 million AND a commitment from the hospital that it will participate in a case study aimed at identifying what went wrong in his case.
The Set-Up:
This designer went to the Washington hospital complaining of back and abdominal pain after falling out of his bed. He informed ER personnel that he suffered from a condition called AS—ankylosing spondylitis.
Ankylosing spondylitis is a type of arthritis affecting the spine. The vertebrae fuse together, causing the spine to become easily fractured, even as the result of a small incident. Although a scan was completed during his first emergency room visit, no fracture was identified (actually it was there, just not seen) and the patient was released. Although he clearly informed hospital personnel about his AS, there was no note in his file.
Subsequently, he returned to the hospital in even more pain, mixed with tingling in his legs and waist. He explained the AS situation again. This time, medical staff performed an MRI. During the MRI, as the patient was being moved around, he suffered even more pain and could no longer feel his legs. The MRI scans showed the fracture in his back that left him paralyzed.
The lawsuit indicated that his back was probably broken during the MRIs when he was being moved into position.
The Verdict:
The settlement included $20 million and the hospital's commitment to participate in a case study. The victim has expertise in software design that makes him qualified to analyze the situation, indentifying where there was a communication breakdown in his care. He wants improvements in the hospital processes. He would like to get to the root of what happened and why, so that similar events can be avoided in the future. Maybe this case study will gain knowledge that can be used at other hospitals to avoid what happened in this case, and which may lead to improvements nationwide.
If you or someone you love has been the victim of hospital emergency room negligence or other instances of medical malpractice, the attorneys at Mitchell S. Sexner & Associates LLC may be able to help you. For over 25 years we have been delivering superior results for injury victims in the Chicago area, surrounding counties, and across Illinois. Millions of dollars have already been collected, so make the call to (312) 644-0444 to see how we can help you. No fees are ever charged unless we're successful on your behalf.
Source:
http://www.cnbc.com/2016/06/19/a-hospitals-mistake-paralyzes-a-designer-he-got-20m-and-an-unusual-promise